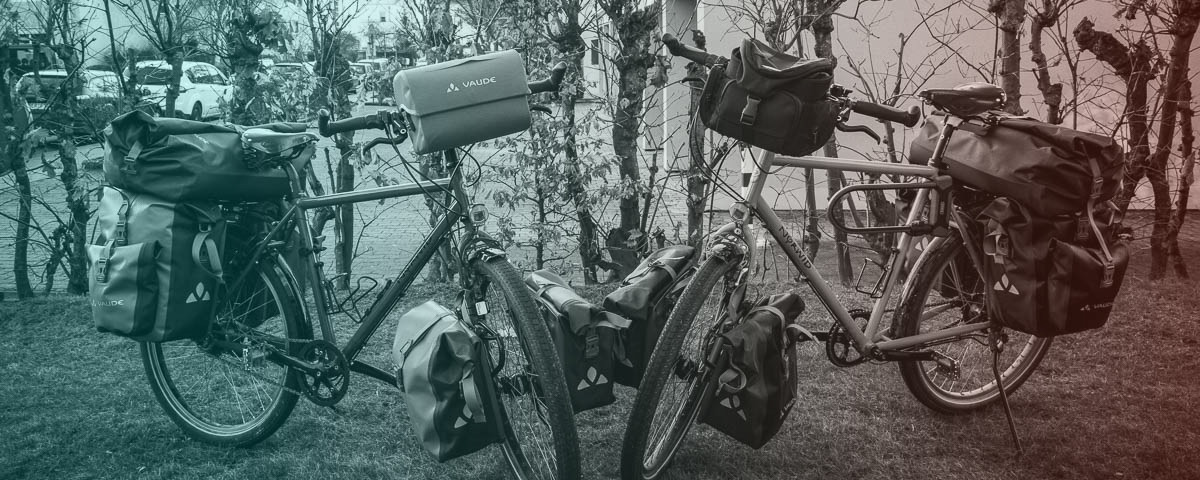 transmission: Rohloff Speedhub 500/14
For more than 10 000km our Rohloff Speedhubs keep us going now, no matter whether it was steep hills in New Zealand or bumpy and dusty outback roads in Australia. We just treated ourselves with new bikes with the Speedhub for this adventure, not really sure if it will be worth the money over a conventional derailleur system. The higher initial investment made the choice difficult, especially on a student budget.
After about eight months on the road we are convinced of having made the right decision. We were never that heavily packed before and the option to change gears while standing is a life-saver, especially when you stop abruptly. This was something we did not think about much before but do not want to live without anymore. Our main reason to choose Rohloff was the longevity and low maintenance effort. The only thing we had to do so far was change the chain and the oil in the hub once, even after cycling stretches like the infamous Gibb River Road in Western Australia.
We will change from our current 16 teeth sprocket to 19 teeth to be ready for steep hills in Asia but so far the combination of 42:16 has done well for us. Let's hope our Speedhub will enable to do another couple thousand of kilometers from now on as well.
Vroni is riding a 48cm frame and Jonas a 54cm one. After almost a year of use we are really happy with our choice and the bikes have taken all the beatings we have thrown at them. The frame has a great symmetry and is versatile with all the mounting points for bottle holders, racks and other. The internal cable routing for the lights is a nice extra that reduces the risk of damaging the cables in case of a fall etc. We can recommend them if you are looking for a versatile frame that does exactly what it advertises: Prepare you for pretty much everything that can hit you on a long tour!
panniers: VAUDE Aqua Back Plus, Aqua Front and Top Case
Just before leaving Germany, VAUDE managed to supply us with two sets of their new Aqua Back Plus, Aqua Front, Top Cases and one Aqua Box for Vroni. The panniers have done a pretty good job so far, taking all heavy New Zealand rain, dusty Australian gravel roads and river crossings. The material they are made of is durable and we love the fact that VAUDE strives for sustainable sourcing and production while keeping them "Made in Germany". One little aspect to complain about is the fact that some parts of the mounting system are made out of plastic, meaning you cannot tighten them as much as a fully metal one and the clips sometimes move around or get loose after a while. Not really bad, just something to mention.
racks: Tubus Logo and Tubus Duo
You cannot go wrong getting Tubus racks. They are some of the industry leading rack solutions and both the Tubus Logo Classic and the Tubus Duo have done a really good job carrying our panniers around. If you intend on leaving on a big tour, think about getting some of the protection foil sets to keep your panniers from rubbing off the paint of the racks on bumpy roads.
tyres: Schwalbe Marathon Almotion
The Norwid Gotland comes with these really nice tyres by default and they are a good versatile choice. The width of 2.15 inch gives you great traction both on the road and in off road situations. Especially when we got onto unsealed roads and they got sandy, we were really glad about having a bigger surface area. On the Gibb River Road in Australia we met other cyclists and they had more issues slipping and sliding with their narrower tyres.
saddles: Brooks Flyer and Ergon ST Core Prime
We both started with a Brooks Flyer in the beginning of the year and there is a good reason why most cycle tourists use Brooks saddles. Even though they seem to be very hard and uncomfortable in the beginning, once you got used to it and the saddle starts taking your personal butt shape, they are really nice.
Just on very long days and when we did many of those Jonas got a sore behind from his saddle a couple of times. When we then got in touch with Ergon and they offered to supply us with one of their new ST Core Prime saddles, we were very interested. We will get the new saddle shortly and see how well it works for touring. We will keep you updated!
The hydraulic HS33 from Magura have done a great job for us so far. We did not have to do any maintenance yet and they grip super tight. Disc brakes seemed a bit too fragile, so we stuck to the classic rim brakes and the Magura have always worked great, even though they get a bit hot on very long downhill sections that require a lot of braking, but that is the weakness of all rim brakes out there.
grips and bar ends: Ergon GP4 / GP5
We started our tour with the very nice Ergon GP4 grips and bar ends and they have done a great job for us. The additional hand and wrist support they offer is nice and we did not have many problems with numb hands or fatigue in our wrists.
When we met other cyclists, some of them had bar ends that did not only go up but also bend back over the grips itself. Now we will switch from the GP4 to the GP5 that offer just that little bit of extra to give some more gripping options while riding. We are excited to see how they change our riding and we will keep you updated.
tent: Wechsel Outpost 3 Travel Line
We chose the Wechsel Outpost 3 Travel Line for a couple of reasons. First of all we liked the versatility that you get with the different zippers and changable size of the inner tent. Set up normally, the inner tent has an asymmetrical footprint with one side being longer which is nice for tall people. If you do not need the extra space in the inner tent, you can collapse the asymmetrical part, giving you more space in the vestibule (lobby) to cook or store equipment. The price is also not too crazy and we did not think the extra 300€ for the 1kg lighter Zero-G line was worth it. With its 4,6kg it is not a lightweight but on the bike a kg more or less does not really cut it for us.
Even though there is no official way to only pitch the inner tent alone, with some slings to put in the tent poles you can set it up just by itself. We loved that in the hot areas of Australia where we knew that it would not be raining.
sleeping bags: Deuter Neosphere -4°
As we were planning to cycle through the Australian outback in winter, we had to expect some cold nights. That made proper down sleeping bags a must have for us as they still give a better weight to warmth ratio than non-down options. The Deuter Neosphere got our attention as you can get them with a left and a right-sided zipper, allowing you to combine two of them into one large sleeping back or one large blanket. In combination with sleeping bag liners, they have done a great job keeping us warm even with 2°C cold nights!
sleeping mats: Sea to Summit Comfort Light Insulated sleeping mat
An awesome coincidence allowed us to meet Ryan, an employee of Sea to Summit Australia and he supplied us with some amazing new inflatable sleeping mats that are smaller to pack while being more comfortable. The Comfort Light Insulated are easy to inflate using their Pump Sack and the double valve system makes inflating and deflating really easy.
pillows: Sea to Summit Aeros Ultralight pillow
In addition to the sleeping mats, Sea to Summit also offered to sponsor new pillows that use the same inflating system as the sleeping mats and we did not say no to that! They are smaller to pack than our former pillows and the material they are made of is soft and stretchy, making it comfy to sleep on.
Droni (our DJI Mavic Pro) has become a full member of our group and helps us to capture our journey from a totally new dimension. It is an amazing tool for photography and videography and brings up a new challenge: Working in three dimensions. The Mavic Pro offers an amazing package of size, weight, image quality and flight time. The bag is just the size of a small camera bag, you can shoot up to 4k video or 12 megapixel photos and you get up to 30 min flight time on one charge. If you want a drone that offers amazing quality in a small package, this is the one for you!
The Samsung NX30 is a mirrorless camera with an APS-C size sensor offering 20 megapixels of resolution. The lenses we carry are the 12-24mm ultra-wide, the 30mm f2 pancake, the 45mm f1.8 and the 50-200mm OIS tele lens. Compared to my Canon DSLR this camera offers a lot of image quality for the relatively small body. We take about 80% of all photos with the 12-24mm lens as it offers you great options for landscape and travel photography. Unfortunately Samsung shut down their NX Series, meaning that there are no new cameras, lenses or service. At some point we will have to switch systems but for now all the gear is still doing its job pretty well!
filters: Rollei filter holder, circular polarizer, 100x150mm soft graduated ND8, 100x150mm reverse graduated ND8, circular ND1000
Good landscape photography gets even better if you use real glass filters instead of only relying on editing your pictures digitally. Luckily we decided to get those filters before we left as it has allowed us to take some pictures that would not have been possible without them. A quick overview:

Circular polarizing filter:
This filter works similar to polarized sunglasses. You can adjust it by rotating and in the right setting you can reduce reflections in non-metallic surfaces, very helpful to reduce or increase reflections on water surfaces. It also allows you to get a stronger contrast and richer colors in landscapes.

Graduated filters:
In landscape photos cameras often struggle with the very high dynamic range of the scene, mainly with a bright sky and a relatively dark foreground. Cameras cannot capture a dynamic range as large as the human eye can and the filters allow you to darken certain parts of the image, giving you a more even photo. Hit Google if you want to find out more about the different filters you can get, it would be too much to go into detail here. ;-)

ND1000 filter:
A neutral density filter blocks out light without changing the colors of the image. The ND1000 takes out that much light that your exposure gets 1000 times longer which allows you to take long exposure shots even during the day. If you would normally have an 1/250s exposure, with the filter you can expose your image for 4s. This is really nice for smooth water or clouds in landscape shots or some dynamic movement in other situations.
action camera: Xiaomi Yi 4k
On a journey like this, a GoPro style action camera is kind of a must-have gadget to bring. It allows us to shoot in the rain, underwater and everywhere else with decent quality in a small package. We decided to get the Xiaomi Yi 4k over GoPro and all the other available cameras as it packs a great set of features for a lower price than GoPro. It can shoot 4k with up to 30fps or 1080p with up to 120fps allowing for some nice slow-motion footage. The image quality is great and after some firmware updates you can also shoot DNG raw photos which is great. You get an awful lot of camera for a decent price and we would highly recommend Xiaomi to everyone!
laptop: Asus Zenbook UX310UQ (UX310UQ-GL420R)
Our last laptop died while we were working on the cattle station so we had to replace it. We had an Asus Zenbook before and this one offers a great deal of power in a very portable package. It is a 13 inch ultrabook that looks very similar to an Apple Macbook but it offers one thing unusual for such a small machine: It is equipped with a dedicated graphics card. Why is that so important? Usual small laptops only offer an integrated graphics chip that is sufficient for everyday tasks but as we need the laptop to be able to edit and render up to 4k video, the dedicated graphics card makes a huge difference! If you are looking for a small but still powerful laptop, the UX310 is a very nice option.
power bank: XT Power XT-16000QC2
When looking for a power bank for our traveling, I wanted to find one that is portable but still powerful enough to power our laptop. After some research if found the XT Power XT-16000QC2. It is equipped with a DC output port that supplies up to 24V with a maximum output of 65W. This is enough for most portable laptops and with the right adapter you can charge pretty much every laptop that does not need more than 65W of power. The adapter for the Zenbook was a bit hard to find but eBay UK had one that fits perfectly. The XT-16000QC2 also offers two regular USB ports, one of them with QuickCharge 2. You can charge it via the DC port or USB and we can also use our solar panel to recharge it on the go. This is one of the best pieces of equipment we have and it keeps us powered up!
power bank: Cinq5 The Plug III and Smart Power Pack II
On our bikes are equipped with The Plug III, a USB port that is powered by the dynamo that usually powers our light. The company making this USB port also offer a power bank , the Smart Power Pack II, that is designed to work with the ever changing output of The Plug. Even if you only go as slow as 8km/h, you can already charge this power bank. With only 3300mAh it is not really big but it allows you to keep phones and other small gadgets charged, even in hilly or cloudy weather. We are just getting the power banks now (Dec 17) and we will report about our experience soon!
solar panel: GoalZero Nomad 7
This solar panel folds out and has two panels that supply up to 15W of power over the 12V output. You also get a USB port to charge all your devices which is really handy. Especially in remote areas it was great to have as it allowed us to charge our power bank which in turn allows us to even keep our laptop powered without any wall power at all. In sunny places like Australia it is a nice way to stay independent from civilization in terms of power. Camping in some national parks for a couple of days was no problem, we just put the panel out during the day and in the afternoon our power bank was fully charged again.
chairs: Therm A Rest Trekker Chair
These "chairs" are one of the nicest pieces of equipment that we carry. You just take your sleeping mat, fold it up and put it into the slings and it gives you a really comfy chair that also has a BACK REST! Having something to lean on is great and we do not want to live without them. Very little weight with great value for us.
water supply: 10 liter MSR Dromedary Bags (2)
The MSR Dromedary Bags come in different sizes with 10l being the biggest one. In many places we do not really fill both of them all the way but in remote areas it was really nice to be able to carry that much water without having to fill dozens of plastic water bottles. The material is very sturdy and with their three different openings you can fill them up quickly with the largest one, refill water bottles quickly with the medium one or just get a little bit of water to wash your hands or have a quick "shower" on the smallest.
stove: Trangia 25-4HA with X2 Multifuel burner
The trangia is a really neat little package that packs two pots and a non-stick pan in a nice small package and even the wind cover is included as well. For the whole year of 2017 we used the stove with the gas burner but now we changed to the Multifuel X2 burner that runs with petrol, diesel, kerosene and more. In New Zealand and Australia you find gas cartridges anywhere but in Asia that will be more difficult, so we decided to switch to petrol that you can just get anywhere and it is also cheaper in the long run. We will report about our experience!
tent lamp: MoKo LED outdoor lamp
You get different levels of brightness, it has something to hang it up inside the tent and a magnet to easily attach it to magnetic surfaces. We wanted a lamp that is rechargeable by USB as you will need to charge it regularly if you use it every night. Spending a bit more than we did is probably a reasonable idea because the build quality is alright but not great. We will see how long it will still hold up.
energy and electrolytes: GoMo energy drink powder
During our time in university we got to know GoMo Energy Drinks and we love the concept and the products they are making. The little sachets of powder make very tasty and energizing drinks to give us some extra power when we need it and to replenish electrolytes while cycling. They use natural ingredients and do not only stuff their powder with sugar the way other manufacturers do. A great product while being on the road!
websites, apps and software
hospitality website: Warmshowers
Warmshowers is a community of cyclists offering hospitality to other cyclists on tour. It is based on a give and take, meaning you are being hosted while on tour and you should be hosting other cyclists if you have the opportunity back home. We have stayed with WarmShowers hosts for more than 60 nights in 2017 and it was amazing to get in touch with like-minded people. We learned a lot about their cycling experiences and the recommendations you get are great as these people know the needs of cyclists.
photo organizing and editing: Adobe Photoshop Lightroom 5
No matter whether you are an aspiring photographer or you just like taking snaps, organizing your photos on a longer trip is somehting you should not be putting off until after the trip as it will be an overwhelming thing to do. Adobe Photoshop Lightroom is easy to use and understand and still gives you great functionality to sort, organize and edit your photos.
video editing: Adobe Premiere Pro
We do all our video editing with Adobe Premiere Pro. It is professional software, meaning there is a bit of a learning curve in the beginning but YouTube can teach you everything from the basics, to effects and color grading. The only thing limiting you will be your creativity as this program will be able to do whatever you want.
planning and lists: Google Sheets
Google Sheets offers pretty much all the basic functionality that Microsoft Excel does but it keeps all your files in Google Drive and it is free to use. You can access them from multiple devices and they are always backed up online. Vroni collected information on all the different countries we might travel to in individual tabs and we keep track of our cycling distances in one sheet as well.
When traveling on a bicycle, keeping an eye on the wind is something you will want to be doing at any time. The website and app Windy give you a great overview as you get a map with the current wind overlayed. You also get a nicely visualized map and a forecast to help you plan your cycling accordingly.
wind statistics Australia: Bureau of Meteorology Australia (BOM)
Cycling in Australia is a bit of a seasonal thing to do as the North gets too hot and wet in summer and the South gets pretty cold in Winter. In addition, the winds in Australia can be really tricky, for example the West Coast gets a strong and consistent Southerlies wind that you do not want to be cycling into (which we decided to do). The Bureau of Meteorology has a great website that gives you statistcs on the usualy winds in many places and in the different months of the year. Very helpful!
We decided against tracking our GPS route while cycling but still wanted to display our route on our website. A friend recommended Strava to us and it is a great site. After signing up, under "My Routes" you can start creating your own routes. Once we are done creating the route, we download the GPX file and then import it into our Google Map that is displayed on our home site. On Google My Maps we then insert the descriptions and markers.
little useful things and gadgets
There are so many small accessories like SD cards, charging cables and more that it can get a bit tricky to keep them all organized. There are many options for cable organizers, just check Amazon and there you will find many different ones with different setups of pockets to fit your needs. This is a must have!
cotton cloths (to cool your head under the helmet)
We carry two 50x50cm cotton cloths which were former cloth diapers. If you fold them into a triangle, they are great to wear as bandanas and they help to keep your head cool under the helmet if you make them wet. You look a bit silly wearing them but we would not want to cycle without them anymore.
We started our trip with 10m of 3mm parachute cord and it has come in handy for various things. By now we have cut it up into many smaller bits and used them as clothes line and to be able to pitch our inner tent on its own (by making slings that run under the tent to put the tent poles into). Very versatile and strong, a great thing to carry!
All your USB cables are usually just 1m long and in many situations it was great to be able to extend either of them by another 1m. They do not cost much, you might already have some lying around at home and they are invaluable if you have electrical outlets in weird or inconvenient places.
We ordered a big pack of those on eBay from China a while ago and we found ourselves using them for plenty of different things. You can use them to easily hang stuff, whether it is our cardboard signs on our bikes saying "water welcome" or our Bluetooth speaker inside the tent.
All your different gadgets and devices need a variety of cables and organizing them can be a little bit of a hassle but these small velcro strips can make keeping them organized a bit easier. They weigh nothing and can be used for many different things.